Rubber tube clamp pieces
Brand:

R.S.L.
Model:

SKR/M6、SKR/M8、SKR/M10
Minimum:

100pcs
Material:

304 stainless steel、EPDM Rubber
Payment:

L/C or T/T
Product description:
Made of corrosion and rust resistant zinc-plated steel, this assortment of rubber clamps allow you to securely suspend hoses, cables, pipes and more. The rubber lining of the clamps absorb vibrations and jolts to withstand rigorous use and reduce wear and tear on cables. The set comes organized in a PVC storage case for convenient portability and storage.
Rubber lining absorbs vibrations and jolts, reducing wear and tear on cables and hoses
These flexible clamps adapt to fit snugly and have an oval fastening hole for easy adjustments
Made of corrosion and rust resistant zinc plated steel
Rubber Cushioned Stainless Steel hose clamp Cable Clamp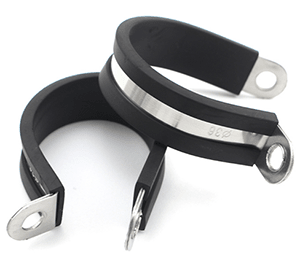 Product description:
1.HIGH QUALITY- 304 Stainless steel cable clamps which rubber cushioned. Salt resistant, anti rust, anti-corrosion, waterproof, oil-proof. These features make the clamps can be worked lasted for years. The quality rubber insulation on the clamps held up flawlessly. It is pliable which protect the tube well and keeps the clamp securely in place.
2.WIDELY USED: It is perfect for mounting varies lines just as the soft tube, steel tube, Aluminum wire line cable . It is widely used in boat/marine, windshield, car, UTV and home etc.
3.The P-Style design makes the clamps stylish, flexible and innovative.Strong and reliable. Easy to twist, bend, manipulate when install.
4.Size is shown in the picture.
5.ENVIRONMENTAL FRIENDLY- It can be reused and recycle if you do not want them to stay on the original place thanks to the high quality material which makes them worked last for years.
These are very sturdy and strong stainless steel cable clamps. Waterproof, oil-proof, salt resistant, anti rust, anti-corrosion.The quality rubber insulation on the clamps held up flawlessly with the clamps. It is pliable which protect the tube well and keeps the clamp securely in place.
perfect for mounting any kind of cable pipe like soft tube, steel tube, Aluminum line in boat/marine, UTV, windshield and home etc.
Product description:
Product description:
• Made with Mild steel (Cold Rolled & Hot Rolled steel) or Stai nless steel (SS 304/SS 316)
• Horizontal, vertical and suspended installations. Steel, copper and PVC pipes
• Welded Nut M8/M10 with option of M10/M12
• Connection thread with M8/M10 dual-tapped boss
• Safe and Break Loads as per Chart
• Side Screw: 6 x 20 – Phillip head with vicer
• M6 Side Nuts can be provided on request
• High rigidity due to reinforcing rib
• The two locking screws allow adjustment to accommodate a grea ter variation in pipe diameter
• Fastener screws with captive washer
• With highly elastic vibration control lining
• Vibration control tested
• Electro galvanized as per ASTM B 633 Standards
• EPDM Lining rubber for sound reduction. Heat Resistance more then 120° Centigrade
Stainless Steel Flexible Rubber Half Coupling Connector Clamp Pipe Fitting
Characteristic :
1. Excellent sealing: With the perfect combination of Novel-Polymer-Material body, and high-quality rubber this coupling has excellent sealing performance.
2. Excellent corrosion resistance: the advantages of new polymer material is its good corrosion resistance, especially for the pipe connection of a variety of purposes, for example the harsh environment of the seawater desalination and wastewater treatment engineering.
3. Prominent high pressure resistance, anti-fatigue: and experimental data shows that the composite material products can resist pressure up to 6.9 MPa, and it can work through 100,000 cycles of fatigue test of 5.5 MPa.
4. Light and beautiful: Compared to stainless steel products, its weight is only 50% of stainless steel,which is easy to transport. It can be made in various colors for different pipes.
5. Specification is complete: It has models of DN25, DN40, DN50, DN65, DN80, DN100, DN125, DN150, DN200, DN250, DN300 also it's in the development of more product specifications.
6. Easy to operate: It makes the operation of pipe connection extremely convenient, with special accessories and more flexibility.
7. Special attachment is complete: We provide the special attachment of a variety of materials, caliber, interfaces to help it work under various environments.
8. Wide temperature ranges: It is suitable for temperatures from -17°C to 160°C.
9. High performance-to-price ratio: We provide products with good price, and guarantee the same performance as high-cost products.
Application:
It can be used for low-pressure microfiltration, ultrafiltration, and reverse osmosis, sewage systems and other piping connections. The coupling body uses the novel polymer material that meets the standards of ASTM A351 and A743. The sealing "C" ring's material is EPDM and can work under temperature of -50°C to 150°C . Also it can be applied under chemical environment like diluted acid and non-oil air.
Stainless grip pipe flexible coupling
Product description:
GRIP pipe couplings offer you an easy to install, time saving and money saving solution. GRIP pipe couplings allow pipes to be joined without the need for flanging, grooving, threading or welding. By simply butting two pipes together and connecting with a GRIP pipe coupling, space, weight , time and cost savings are achieved with every installation .
Benefits of GRIP Couplings
1. Universal use
Compatible with any traditional jointing system
Joins pipes of the same or dissimilar materials
Quick and simple repairs of damaged pipes without service interruptions
2. Reliable
Stress-free, flexible pipe joint
Compensates axial movement and angular deflection
Pressure-resistant and leak-proof even with inaccurate pipe assembly
3. Easy handling
Detachable and reusable
Maintenance free and trouble free
No time-consuming alignment and fitting work
Easy installation technology
4. Durable
Progressive sealing effect
Progressive anchoring effect
Corrosion resistant and temperature resistant
Good resistant to chemicals
Long service time
5. Space-saving
Compact design for space-saving installation of pipes
Light weight
Needs little space
6. Fast and Safe
Easy installation, no fire or explosion hazard during installation
No cost for protective measures
Absorbs vibration /oscillations
Installation:
GRIP-GT Axially Restrained Pipe Coupling With Copper Anchoring Rings
The GRIP-GT is ideal for various non-metal pipes axially restrained connection.
Unique threaded copper anchoring ring design enable the coupling connect the pipes properly without slight scratch or damage.
The coupling connects the pipe evenly.
Suitable for pipes O.D φ26.9-φ800.0mm
Application