O ring
Brand:

R.S.L.
Model:

O-ring
Minimum:

1000pieces
Material:

EPDM、NBR、NR、SBR、VITON、Silicone Rubber
Payment:

T/T or L/C
O-ring is a ring-shaped mechanical gasket, it is a ring of elastomers, cross-section is common for the circular, usually fixed in a groove, the assembly process will be two or more components Compressed, thus producing a sealed interface.
O-rings are the most common mechanical design for sealing because of their low cost, simple manufacturing, reliable operation and simple installation requirements. O-rings withstand dozens of pascal (thousand pounds) pressure. O-rings can be used in static applications and can also be used in dynamic applications where relative movement between components, such as rotating the shaft of the pump and the hydraulic cylinder piston.
O ring description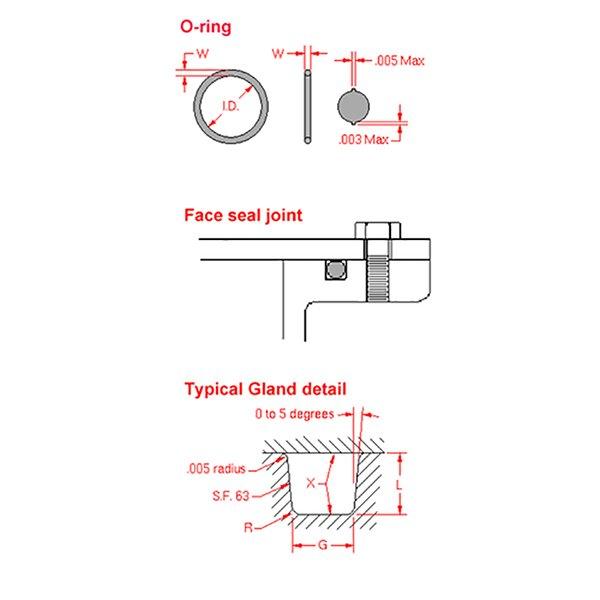 How to describe an O-ring?
Custom Orings and Metric Orings are typically described by their Internal Diameter (ID), Radial Cross Section (CS), Rubber Material from which they are constructed plus the material Hardness on a Shore A scale .
We offer the following six (6) standard rubber materials in a range of durometer (Shore A) hardnesses to satisfy practically any service condition:
Viton® / FKM: Fluorocarbon (Viton®) exhibits exceptional resistance to chemicals, oils, temperature extremes (-13°F to +446°F), low compression set, low gas permeability and excellent aging characteristics. Applications include: aircraft engines, automotive fuel handling systems, and chemical processing industries. FKM is also suitable for high vacuum applications. It is not recommended for exposure to ketones, alkalis, and Skydrol® fluids. Custom compounds are available with improved chemical and low temperature resistance. Read More
Nitrile / NBR: Nitrile (Buna-N) is the most widely used elastomer due to its excellent resistance to petroleum products, operating temperature range (-40°F to +257°F) and one of the best performance-to-cost values. It's an ideal material for aerospace, automotive, propane and natural gas applications. Special Hydrogenated Nitrile (HNBR) compounds can improve resistance to direct ozone, sunlight, and weather exposure while increasing temperature range to +300°F. Read More
Ethylene-Propylene / EPDM: EPDM has outstanding resistance to heat, water and steam, alkali, mild acidic and oxygenated solvents, ozone, and sunlight (-40ºF to +275ºF); but it is not recommended for gasoline, petroleum oil and grease, and hydrocarbon environments. This popular rubber compound is usually the first choice for low torque drive belt applications. Read More
Fluorosilicone / FVMQ: Fluorosilicone (-75º to +400ºF) combines the good high and low temperature stability of silicones with the fuel, oil, and solvent resistance of fluorocarbons. FVMQ is unparalleled for aerospace fuel systems, auto fuel emission control systems and to meet or exceed government, military, aerospace, automotive, industrial and commercial specifications. However, due to relatively low tear strength, high friction and limited abrasion resistance of these materials, they are generally not used in dynamic applications. They are also not recommended for exposure to brake fluids, hydrazine, or ketones. Read More
Silicone / VMQ: In the Silicone family, you will find compounds which are superior as static seals in extreme temperature conditions. Standard compounds handle operating temperatures -85º to +400ºF. Silicone compounds are popular in food and medical applications because they are very clean and do not impart odor or taste. Special Phenyl silicones can be used down to -148°F. Read More
Neoprene® / CR: Neoprene (-40º to +250ºF) is reasonably priced and features good resistance to petroleum oils, ozone, sunlight and oxygen aging, relatively low compression set, good resilience and outstanding physical toughness. It is the preferred sealing material for the refrigeration industry because of its resistance to ammonia and Freon®. Read More
Let us know if you require materials to meet the following standards; UL, WRAS, ASTM, NSF-61. We have many special compounds that can meet the specification you are looking for.
O-rings are the most commonly used sealing products. They are very effective as well as being relatively inexpensive and reliable.
O-rings are designed to offer sealing in both static and dynamic applications.
A wide range of elastomers are available including Nitrile (NBR), Hydrogenated Nitrile (HNBR), Silicone (VMQ), Polyurethane (PU), Perfluoroelastomer (FFKM), Viton®/ FKM and PTFE. As well as standard grades,many derivatives are also available.
Property

Buna-N

Viton®

Silicone

PTFE

Kalrez®

Part No. Prefix

B-

V-

S-

T-

K-

Tear Resistance

Good

Good

Poor

Excellent

Good

Abrasive Resistance

Good

Good

Poor

Excellent

Good

Ozone Resistance

Poor

Excellent

Excellent

Good

Excellent

Weather Resistance

Fair

Excellent

Excellent

Good

Excellent

Heat Resistance

Fair

Excellent

Excellent

Good

Excellent

Chemical Resistance

Fair

Excellent

Good

Excellent

Excellent

Oil Resistance

Poor

Excellent

Poor

Good

Excellent

Acid Resistance

Fair

Excellent

Good

Excellent

Excellent

Alkali Resistance

Good

Good

Fair

Excellent

Excellent

Steam Resistance

Fair

Fair

Poor

Good

Excellent

Minimum Usable Temp

-65 deg F
-54 deg C

-65 deg F
-54 deg C

-120 deg F
-85 Deg C

-110 deg F
-79 deg C

-35 deg F
-37 deg C

Maximum Usable Temp

300 deg F
150 deg C

500 deg F
260 deg C

450 deg F
232 deg C

500 deg F
260 deg C

550 deg F
288 deg C

Color

Black

Black

Red

White

Black

Impermeability

Fair

Good

Poor

Excellent

Good

Tensile Strength

Good

Good

Poor

Excellent

Good
Type

[ M ]Material

[ H ] Hardness (JIS Hs)

Color

Operating Temperature Range

Applications

Feature

NSA

Nitrile Rubber

70±5

Black

-30~100°C

Mineral Oil Resistant

Most representative material with superior oil / abrasion

resistance and heat stability.

NSB

Nitrile Rubber

90±5

Black

-25~100°C

NSSW

Silicon Rubber

50±5

Milky White

-50~200°C

Heat Resistant

Having excellent high and low temperature resistances, this material has the widest range of operating temperatures among synthetic rubbers.It is suitable for food-related applications.

NSS

Silicon Rubber

70±5

Dark Blue[ ! ]

-50~200°C

Heat Resistant

NSF

Fluoro Rubber

70±5

Black

-15~200°C

Best in oil / chemical resistance and heat stability as synthetic rubber.

Suitable for a wide

range of applications.

NSFH

Fluoro Rubber

90±5

Black

-15~200°C

Heat Resistant
Application